Courses
---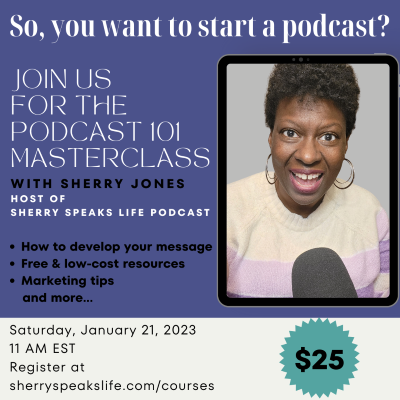 Podcast 101 Masterclass with Sherry Jones
Join me on January 21, 2023, at 11 AM EST, and get started on your podcast journey! I stepped out on faith and started podcasting during the height of the pandemic in April 2020. Although I had no clue what I was doing, I said yes to the call. I went through the growing pains of figuring things out so you don't have to.
During this masterclass, I will share the lessons I've learned as well as shortcuts and tips that will prepare you to share your message with the world. We will discuss…
Developing your message & identifying your audience
Determining the best format for your podcast
Being comfortable recording and using your voice
Utilizing free & low-cost resources to get started
Ways to market your podcast
Are you ready to speak life with your podcast? Let's get started!
Ways to pay:
Cashapp- $SherrySpeaksLife (For: Podcast 101 & your email)
PayPal- Sherry Speaks Life (Notes: Podcast 101 & your email)
Google Pay or Debit/Credit Card- Add to cart below.
You will receive the Zoom link within 24 hours. See you soon!
---
---
Showing the single result